LED chaser using Arduino
This LED Multi Pattern of Blinking effect is done by using the arduino UNO. This led chaser circuit connection is very very easy and simple because of arduino board is used. The effect is very beautiful with multi style of patterns. Here only 10 LEDs are used but you can connect upto 12 LEDs.
2-13 Digital pin of Arduino is connected with the LEDs positive terminal through 470 ohm resistor and Ground connection is connected with GND pin near the pin no 13 of Arduino. Here i used only pin 2-11 so i used programming for pin 2-11. but you can add instruction in programming for pin 12 and 13 as same as pin 11. if you want to connect high load bulb, then you can use 5v  Relay through NPN transistor and connect the high load AC bulb.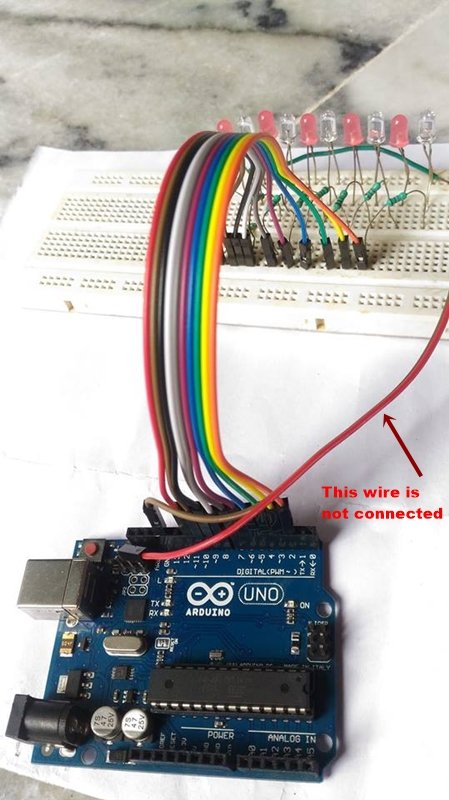 Program
void

 

setup

 

(

)

  

{



  

pinMode

(

2

,

 

OUTPUT

)

;



  

pinMode

(

3

,

 

OUTPUT

)

;



  

pinMode

(

4

,

 

OUTPUT

)

;



  

pinMode

(

5

,

 

OUTPUT

)

;



  

pinMode

(

6

,

 

OUTPUT

)

;



  

pinMode

(

7

,

 

OUTPUT

)

;



  

pinMode

(

8

,

 

OUTPUT

)

;



  

pinMode

(

9

,

 

OUTPUT

)

;



  

pinMode

(

10

,

 

OUTPUT

)

;



  

pinMode

(

11

,

 

OUTPUT

)

;





}



 

void

 

loop

(

)

  

{

  

  

digitalWrite

(

2

,

  

HIGH

)

;


  

delay

(

400

)

;


  

digitalWrite

(

3

,

  

HIGH

)

;


  

delay

(

400

)

;


  

digitalWrite

(

4

,

  

HIGH

)

;


  

delay

(

400

)

;


  

digitalWrite

(

5

 

,

 

HIGH

)

;


  

delay

(

400

)

;


  

digitalWrite

(

6

,

  

HIGH

)

;


  

delay

(

400

)

;


  

digitalWrite

(

7

,

  

HIGH

)

;


  

delay

(

400

)

;


  

digitalWrite

(

8

,

  

HIGH

)

;


  

delay

(

400

)

;


  

digitalWrite

(

9

,

  

HIGH

)

;


  

delay

(

400

)

;


  

digitalWrite

(

10

,

  

HIGH

)

;


  

delay

(

400

)

;


  

digitalWrite

(

11

,

  

HIGH

)

;


  

delay

(

400

)

;


  

  

digitalWrite

(

2

,

  

LOW

)

;


  

delay

(

100

)

;


  

digitalWrite

(

3

,

  

LOW

)

;


  

delay

(

100

)

;


  

digitalWrite

(

4

,

  

LOW

)

;


  

delay

(

100

)

;


  

digitalWrite

(

5

,

  

LOW

)

;


  

delay

(

100

)

;


  

digitalWrite

(

6

,

  

LOW

)

;


  

delay

(

100

)

;


  

digitalWrite

(

7

,

  

LOW

)

;


  

delay

(

100

)

;


  

digitalWrite

(

8

,

  

LOW

)

;


  

delay

(

100

)

;


  

digitalWrite

(

9

,

  

LOW

)

;


  

delay

(

100

)

;


  

digitalWrite

(

10

,

  

LOW

)

;


  

delay

(

100

)

;


  

digitalWrite

(

11

,

  

LOW

)

;


  

delay

(

400

)

;




  

digitalWrite

(

11

,

  

HIGH

)

;


  

delay

(

400

)

;


  

digitalWrite

(

10

,

  

HIGH

)

;


  

delay

(

400

)

;


  

digitalWrite

(

9

,

  

HIGH

)

;


  

delay

(

400

)

;


  

digitalWrite

(

8

,

  

HIGH

)

;


  

delay

(

400

)

;


  

digitalWrite

(

7

,

  

HIGH

)

;


  

delay

(

400

)

;


  

digitalWrite

(

6

,

  

HIGH

)

;


  

delay

(

400

)

;


  

digitalWrite

(

5

,

  

HIGH

)

;


  

delay

(

400

)

;


  

digitalWrite

(

4

,

  

HIGH

)

;


  

delay

(

400

)

;


  

digitalWrite

(

3

,

  

HIGH

)

;


  

delay

(

400

)

;


  

digitalWrite

(

2

,

  

HIGH

)

;


  

delay

(

400

)

;




  

digitalWrite

(

11

,

  

LOW

)

;


  

delay

(

100

)

;


  

digitalWrite

(

10

,

  

LOW

)

;


  

delay

(

100

)

;


  

digitalWrite

(

9

,

  

LOW

)

;


  

delay

(

100

)

;


  

digitalWrite

(

8

,

  

LOW

)

;


  

delay

(

100

)

;


  

digitalWrite

(

7

,

  

LOW

)

;


  

delay

(

100

)

;


  

digitalWrite

(

6

,

  

LOW

)

;


  

delay

(

100

)

;


  

digitalWrite

(

5

,

  

LOW

)

;


  

delay

(

100

)

;


  

digitalWrite

(

4

,

  

LOW

)

;


  

delay

(

100

)

;


  

digitalWrite

(

3

,

  

LOW

)

;


  

delay

(

100

)

;


  

digitalWrite

(

2

,

  

LOW

)

;


  

delay

(

400

)

;




  

digitalWrite

(

11

,

  

HIGH

)

;


  

delay

(

30

)

;


  

digitalWrite

(

11

,

  

LOW

)

;


  

delay

(

25

)

;


  

digitalWrite

(

10

,

  

HIGH

)

;


  

delay

(

30

)

;


  

digitalWrite

(

10

,

  

LOW

)

;


  

delay

(

25

)

;


  

digitalWrite

(

9

,

  

HIGH

)

;


  

delay

(

30

)

;


  

digitalWrite

(

9

,

  

LOW

)

;


  

delay

(

25

)

;


  

digitalWrite

(

8

,

  

HIGH

)

;


  

delay

(

30

)

;


  

digitalWrite

(

8

,

  

LOW

)

;


  

delay

(

25

)

;


  

digitalWrite

(

7

,

  

HIGH

)

;


  

delay

(

30

)

;


  

digitalWrite

(

7

,

  

LOW

)

;


  

delay

(

25

)

;


  

digitalWrite

(

6

,

  

HIGH

)

;


  

delay

(

30

)

;


  

digitalWrite

(

6

,

  

LOW

)

;


  

delay

(

25

)

;


  

digitalWrite

(

5

,

  

HIGH

)

;


  

delay

(

30

)

;


  

digitalWrite

(

5

,

  

LOW

)

;


  

delay

(

25

)

;


  

digitalWrite

(

4

,

 

HIGH

)

;


  

delay

(

30

)

;


  

digitalWrite

(

4

,

  

LOW

)

;


  

delay

(

25

)

;


  

digitalWrite

(

3

,

  

HIGH

)

;


  

delay

(

30

)

;


  

digitalWrite

(

3

,

  

LOW

)

;


  

delay

(

25

)

;


  

digitalWrite

(

2

,

  

HIGH

)

;


  

delay

(

30

)

;


  

digitalWrite

(

2

,

  

LOW

)

;


  

delay

(

400

)

;




  

digitalWrite

(

2

,

  

HIGH

)

;


  

delay

(

30

)

;


  

digitalWrite

(

2

,

  

LOW

)

;


  

delay

(

25

)

;


  

digitalWrite

(

3

,

  

HIGH

)

;


  

delay

(

30

)

;


  

digitalWrite

(

3

,

  

LOW

)

;


  

delay

(

25

)

;


  

digitalWrite

(

4

,

  

HIGH

)

;


  

delay

(

30

)

;


  

digitalWrite

(

4

,

  

LOW

)

;


  

delay

(

25

)

;


  

digitalWrite

(

5

,

  

HIGH

)

;


  

delay

(

30

)

;


  

digitalWrite

(

5

,

  

LOW

)

;


  

delay

(

25

)

;


  

digitalWrite

(

6

,

  

HIGH

)

;


  

delay

(

30

)

;


  

digitalWrite

(

6

,

  

LOW

)

;


  

delay

(

25

)

;


  

digitalWrite

(

7

,

  

HIGH

)

;


  

delay

(

30

)

;


  

digitalWrite

(

7

,

  

LOW

)

;


  

delay

(

25

)

;


  

digitalWrite

(

8

,

  

HIGH

)

;


  

delay

(

30

)

;


  

digitalWrite

(

8

,

  

LOW

)

;


  

delay

(

25

)

;


  

digitalWrite

(

9

,

 

HIGH

)

;


  

delay

(

30

)

;


  

digitalWrite

(

9

,

  

LOW

)

;


  

delay

(

25

)

;


  

digitalWrite

(

10

,

  

HIGH

)

;


  

delay

(

30

)

;


  

digitalWrite

(

10

,

  

LOW

)

;


  

delay

(

25

)

;


  

digitalWrite

(

11

,

  

HIGH

)

;


  

delay

(

30

)

;


  

digitalWrite

(

11

,

  

LOW

)

;


  

delay

(

400

)

;




  

digitalWrite

(

11

,

  

HIGH

)

;


  

delay

(

30

)

;


  

digitalWrite

(

11

,

  

LOW

)

;


  

delay

(

25

)

;


  

digitalWrite

(

10

,

  

HIGH

)

;


  

delay

(

30

)

;


  

digitalWrite

(

10

,

  

LOW

)

;


  

delay

(

25

)

;


  

digitalWrite

(

9

,

  

HIGH

)

;


  

delay

(

30

)

;


  

digitalWrite

(

9

,

  

LOW

)

;


  

delay

(

25

)

;


  

digitalWrite

(

8

,

  

HIGH

)

;


  

delay

(

30

)

;


  

digitalWrite

(

8

,

  

LOW

)

;


  

delay

(

25

)

;


  

digitalWrite

(

7

,

  

HIGH

)

;


  

delay

(

30

)

;


  

digitalWrite

(

7

,

  

LOW

)

;


  

delay

(

25

)

;


  

digitalWrite

(

6

,

  

HIGH

)

;


  

delay

(

30

)

;


  

digitalWrite

(

6

,

  

LOW

)

;


  

delay

(

25

)

;


  

digitalWrite

(

5

,

  

HIGH

)

;


  

delay

(

30

)

;


  

digitalWrite

(

5

,

  

LOW

)

;


  

delay

(

25

)

;


  

digitalWrite

(

4

,

 

HIGH

)

;


  

delay

(

30

)

;


  

digitalWrite

(

4

,

  

LOW

)

;


  

delay

(

25

)

;


  

digitalWrite

(

3

,

  

HIGH

)

;


  

delay

(

30

)

;


  

digitalWrite

(

3

,

  

LOW

)

;


  

delay

(

25

)

;


  

digitalWrite

(

2

,

  

HIGH

)

;


  

delay

(

30

)

;


  

digitalWrite

(

2

,

  

LOW

)

;


  

delay

(

400

)

;




  

digitalWrite

(

2

,

  

HIGH

)

;


  

delay

(

30

)

;


  

digitalWrite

(

3

,

  

HIGH

)

;


  

delay

(

30

)

;


  

digitalWrite

(

4

,

  

HIGH

)

;


  

delay

(

30

)

;


  

digitalWrite

(

5

,

  

HIGH

)

;


  

delay

(

30

)

;


  

digitalWrite

(

6

,

  

HIGH

)

;


  

delay

(

30

)

;


  

digitalWrite

(

7

,

  

HIGH

)

;


  

delay

(

30

)

;


  

digitalWrite

(

8

,

  

HIGH

)

;


  

delay

(

30

)

;


  

digitalWrite

(

9

,

  

HIGH

)

;


  

delay

(

30

)

;


  

digitalWrite

(

10

,

  

HIGH

)

;


  

delay

(

30

)

;


  

digitalWrite

(

11

,

  

HIGH

)

;


  

delay

(

400

)

;



  

digitalWrite

(

2

,

 

HIGH

)

;


  

digitalWrite

(

3

,

 

HIGH

)

;


  

digitalWrite

(

4

,

 

HIGH

)

;


  

digitalWrite

(

5

,

 

HIGH

)

;


  

digitalWrite

(

6

,

 

HIGH

)

;


  

digitalWrite

(

7

,

 

HIGH

)

;


  

digitalWrite

(

8

,

 

HIGH

)

;


  

digitalWrite

(

9

,

 

HIGH

)

;


  

digitalWrite

(

10

,

 

HIGH

)

;


  

digitalWrite

(

11

,

 

HIGH

)

;


  

delay

(

1000

)

;



  

digitalWrite

(

11

,

 

LOW

)

;


  

delay

(

400

)

;


  

digitalWrite

(

10

,

 

LOW

)

;


  

delay

(

400

)

;


  

digitalWrite

(

9

,

 

LOW

)

;


  

delay

(

400

)

;


  

digitalWrite

(

8

,

 

LOW

)

;


  

delay

(

400

)

;


  

digitalWrite

(

7

,

 

LOW

)

;


  

delay

(

400

)

;


  

digitalWrite

(

6

,

 

LOW

)

;


  

delay

(

400

)

;


  

digitalWrite

(

5

,

 

LOW

)

;


  

delay

(

400

)

;


  

digitalWrite

(

4

,

 

LOW

)

;


  

delay

(

400

)

;


  

digitalWrite

(

3

,

 

LOW

)

;


  

delay

(

400

)

;


  

digitalWrite

(

2

,

 

LOW

)

;


  

delay

(

1000

)

;





  

digitalWrite

(

2

,

 

HIGH

)

;



  

digitalWrite

(

3

,

 

HIGH

)

;



  

digitalWrite

(

4

,

 

HIGH

)

;



  

digitalWrite

(

5

,

 

HIGH

)

;



  

digitalWrite

(

6

,

 

HIGH

)

;



  

digitalWrite

(

7

,

 

HIGH

)

;



  

digitalWrite

(

8

,

 

HIGH

)

;



  

digitalWrite

(

9

,

 

HIGH

)

;



  

digitalWrite

(

10

,

 

HIGH

)

;



  

digitalWrite

(

11

,

 

HIGH

)

;



  

delay

(

1000

)

;




  

digitalWrite

(

11

,

 

LOW

)

;



  

digitalWrite

(

10

,

 

LOW

)

;



  

digitalWrite

(

9

,

 

LOW

)

;



  

digitalWrite

(

8

,

 

LOW

)

;



  

digitalWrite

(

7

,

 

LOW

)

;



  

digitalWrite

(

6

,

 

LOW

)

;



  

digitalWrite

(

5

,

 

LOW

)

;



  

digitalWrite

(

4

,

 

LOW

)

;



  

digitalWrite

(

3

,

 

LOW

)

;



  

digitalWrite

(

2

,

 

LOW

)

;



  

delay

(

1000

)

;

 
  
  

}