Switch ON Delay Timer Circuit Diagram
Power ON Delay Timer 
If You Want to switch on any Load After Some Moment Or Some Duration Then You Can Use this Timer Circuit. This is Tested.  Timing Can be Adjusted By Adjustment of Preset. 
This circuit is very useful in the Protection of Any Load. A Device Can be Damaged By the Sudden Unstabilized Current or Voltage flow Through Whole Circuit. Sometimes Mains Voltage Take Some Moments to Stabilization. 
So If You Connect a Delay Timer, the Timer Stops The Current Flow For A Fix Duration, and After That, It Allow To Pass The Current.
2N2222 is more suitable At the place of Q2
Circuit -1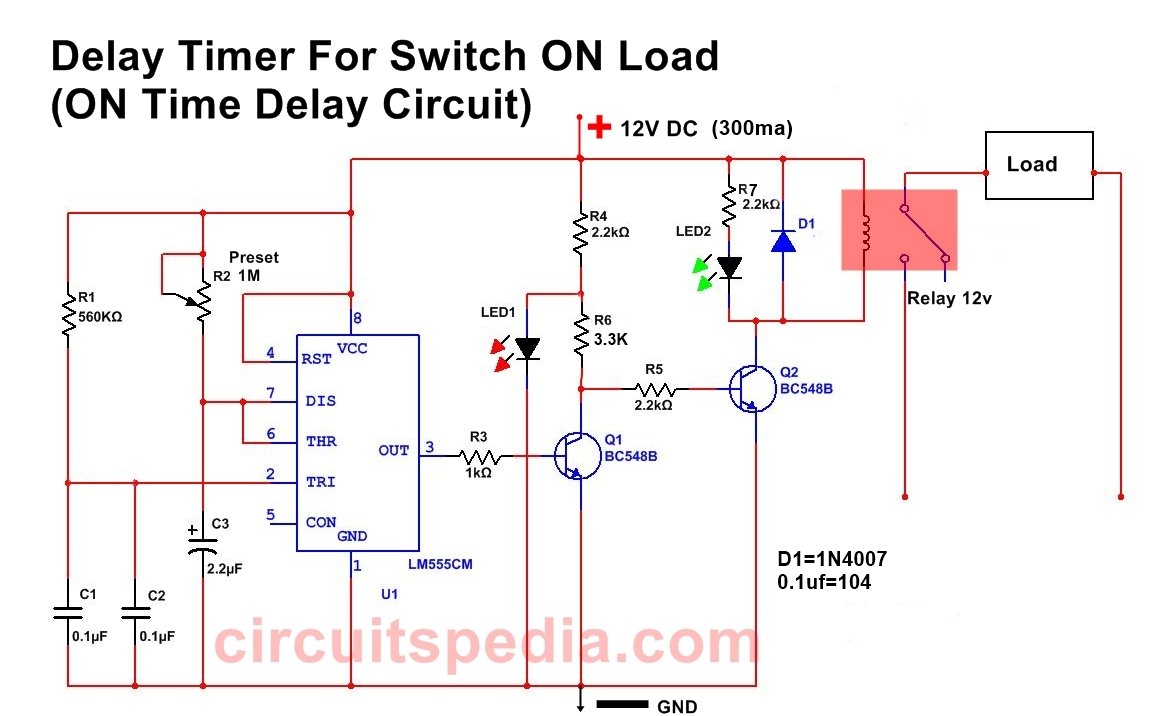 Parts
IC 555 – 1
Preset 1M- 1
capacitor 2.2uf 63v – 1
0.1uf – 2 or 0.22uf -1
Resistor –
560k- 1
1k-1
2.2k -3
3.3k-1
Diode 1N4007 -1
Relay 12v -1 
transistor- BC548 or 2N2222A – 2
12v DC supply-1
Circuit 2
This is a great circuit
ON time delay timer circuit
Parts
IC 555 -1
Bridge rectifier -1
capacitor
1000uf 25v -1
100uf 25v -1
Resistor 1k- 1,   56k -1
transistor 2N2222A- 1
Relay 12v -1
Diode 1N4007 -1
12-0-12v step-down transformer (500ma or 1A)-1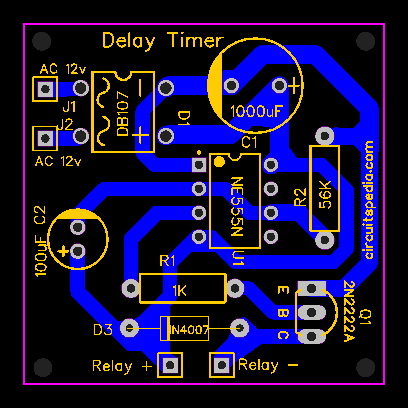 Both circuits are tested with the 12v supply
Applications/ uses of switch ON delay timer circuit
Motor Control: In motor control applications, a switch ON delay timer can be used to delay the activation of a motor after power is applied. This delay allows time for the motor to stabilize and reach its optimal operating conditions before it starts running.
Power Sequencing: Switch ON delay timers are commonly used in power sequencing circuits. They ensure that certain devices or subsystems power up in a specific order, preventing issues such as voltage spikes or excessive inrush currents that can occur when multiple devices turn on simultaneously.
Equipment Protection: In some cases, it is necessary to introduce a delay before certain equipment or loads are energized to protect them from potential damage. For example, in audio amplifiers, a switch ON delay timer can be used to delay the activation of speakers, preventing any potential speaker-damaging transients or thumps during power-up.
Power Supply Stabilization: Switch ON delay timers can be used in power supply circuits to allow sufficient time for the power supply to stabilize before connecting it to the load. This helps prevent voltage fluctuations or surges from affecting the connected equipment.
Safety Applications: In certain safety-related applications, such as industrial equipment or high-power systems, a switch ON delay timer can be used to ensure that critical systems, alarms, or safety interlocks are activated after a specified delay, allowing time for pre-start checks or system initialization.
Pinout of BC548 and BC547 is same.
Testing Video
Also Read