on off touch switch
Single Touch ON-OFF Switch Using 555 And 4017
Introduction
Here I am Describing a Touch Switch Which Is operated by Only One Touch Plate. This Touch Switch Is Made using  One 555 Timer IC And One Counter IC 4017. The Circuit Is Required Also Some Discrete Component Like Resistor, Transistor, Capacitor, and Diode.
 When Touch The Metal (Touch Plate) For A Moment (About 1 Sec), The Load Is Switched On. Now If You Touch Again The  Same Touch Plate Metal, The Load Become Switched Off. So This Is Very Interesting Circuit And Very Sensitive. At First When Switch On The Circuit,  The Load Which Is Connected Through this is OFF. 
In This Project, I Used Only One Touch Plate Which Is a Small Piece Of Any Metal To Make The Contact Between Circuit And Human Finger.
Must Watch The Video Of This Project At Next Paragraph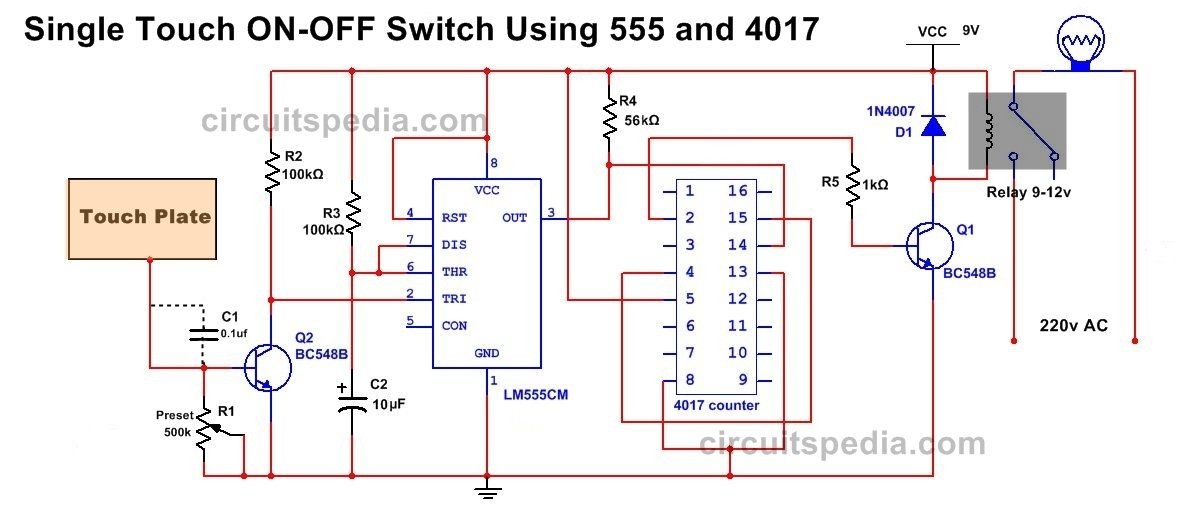 Working
The 555 Timer is connected as Monostable Mode in The Circuit Which gives one-shot output For a fix time duration, And 4017 Counter Ic is connected as Flip Flop. In this connection of 4017 Counter IC , Output At Pin 2 is Become High And Remain the same state until the Clock Pulse At Pin 14 is not changed. 4017 is a 5 State Counter IC, Here Only One Output Of Pin 2 Is Used. 
At First When Power Supply Is Turn On, The Pin 2 Of 555 Timer gets A Small Negative Signal through Transistor Q2 And As we know For output of 555 it is necessary to Trigger the Pin 2 By Negative Signal (supply). So, in This Case, The output Of 555 At Pin 3 gives a High signal Because Simply The Negative Signal is passed Through the Q2 at pin2. Therefor The pin 14 of IC 4017 gets a Positive signal by Resistor R4 and Does not get the Low (Negative) signal Then the output Of IC 4017 Remains Low. When The signal At Pin 2 is Low Then The Transistor Q1 not Turn On and relay Not activate so Load is Switched Off.  
When you Touch With the Finger At Touch Plate Then A Signal By Body Give on the base of Transistor Q2, And transistor Detects And Through Transistor This Signal goes To pin 2 Of IC 555 And This IC Triggered. When Trigger Occured,  Output Pin 3 Of 555 Gives a Positive (High) Signal To the pin no 14 Of 4017 And as the signal changed the output of 4017 At pin2 is changed ie LOW to HIGH. As Output of IC 4017 is High Then The Transistor Q1 is ON And Relay Activated, So Connected Load is Switched ON. 
Resistor R1 Provides Positive Signal At pin 2 For Returning The Previous State Of 555 Timer. Capacitor Is Used for Setting to provide a bit of duration To remain in One State. Timer 555 is Returned in his original State But Once The State is changed Of 4017 It Does Not Return In the Previous Mode Until Signal Is Repeated Again At pin 14. This Is Done By 555.
So When touching The Plate, The State Of IC 555 is Changed and On Every Touch Give Changed To Alternate Signal Pulse and Then The IC 4017 also gets Changed Pulses at Pin 14 and On Each changed Signal Pulses The Transistor Q1 Turns ON and OFF. So The Connected Load is ON at one Touch And OFF at Second Touch. 
Resistor R4 is Necessary For The Reset the IC 4017, If You Not Connect The R4 Or IF You Connect Very High Resistance Value Then Each Time Of Starting The Power Supply, Load May Automatically On At Circuit Switched On.
• For Touch Plate, Use Any  Small Metal Plate. Adjust The Preset For Satisfied Operation Of Circuit.
• Capacitor C1 is Optional, You May Not Connect, When I was Testing Without C1, No Any Notable Effect I Got.
Also, Read Fm Transmitter circuit
Demo Video Of This Project
Components 
IC
555-1
4017-1
Capacitor
10uf 25v-1
Resistor
100k-2
56k-1
1k-1
Preset
500k-1
Transistor
BC548-2
Relay 9v or 12v -1
Diode
1N4007-1
Must Read Remote Control Switch