10w x 10w stereo amplifier circuit diagram using TDA2009
IC TDA2009A is class AB dual Hi-Fi  powerful Audio power amplifier assembled in Multiwatt  package, especially
designed for high-quality stereo applications as Hi-Fi and music centers.
This ic has the following specification
•  HIGH OUTPUT POWER (2 x 10W)
•  HIGH CURRENT CAPABILITY (UP TO 3.5A)
•  AC SHORT CIRCUIT PROTECTION
•  THERMAL OVERLOAD PROTECTION SPACE AND COST SAVING 
•  VERY LOW NUMBER OF EXTERNAL COMPONENTS AND SIMPLE MOUNTING.
Two output power of 10 watt at both 8 ohms speaker load, 0.351% distortion at a frequency 1 kHz, frequency response from 10 Hz-50 kHz at -3 dB to 36 dB of gain and the strength. the input signal at 100 mV.
Fit a proper size heat sink to TDA 2009, This ic can work on supply range between 8v to 24v. Input is connected to the pin no 1 and 5. At both pin, two separate audio channels are connected to stereo input. Output is connected to pin 8 and pin 10 through capacitor. capacitor C10 and C11 work as a filter to controlling the noise. Pin no 6 is directly connected with DC ground and pin no 9 is connected with DC power supply. Use 2-3 A supply of between 12 to 20 v, not more than 24 v. Do not operate without a proper heatsink.
Schematic diagram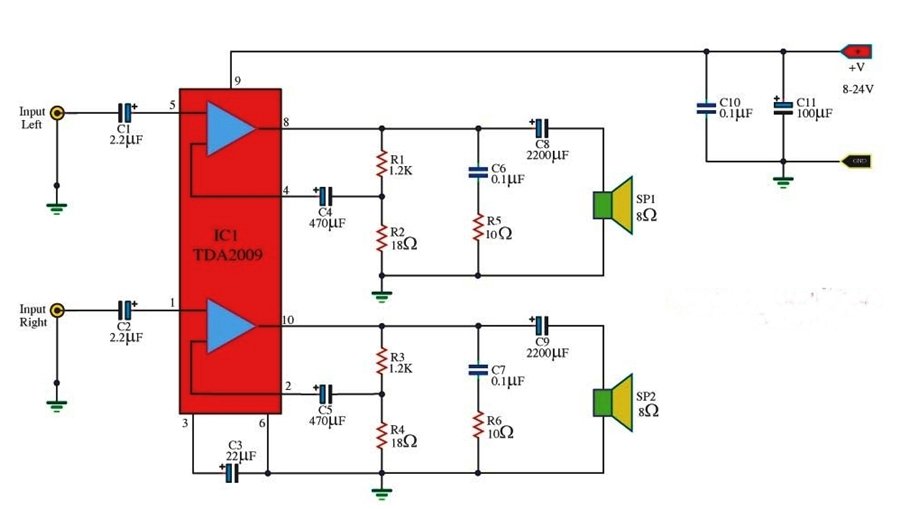 components
ic TDA2009 
RESISTOR
18Ω-2
1.2k -2
10 -2
capacitor
470uf-2
2200uf-2
0.1uf (104) -3
100uf-1
2.2uf -2
Also read

High quality Audio Amplifier using LA4440