Automatic water level controller for submersible motor 
Introduction
This Project Is Very Useful, Interesting, And Very Effective. This Automatic Water Pump Controller With Three Stage Level Indicator Provides the Visual And Attractive LED Indication As Level Of the Water in Water Tank. When Tank is Full Then Motor Stops Automatically, In This Circuit No Use Of Any Timer IC.
• This is an Automatic submersible Motor controller
•  The Main Advantage Of This Project Is To All Three LEDs Are Glowing One by One. Only One LED is Glowing At One Level And the Other Two Are in Off State.
Schematic diagram
Click on image to large view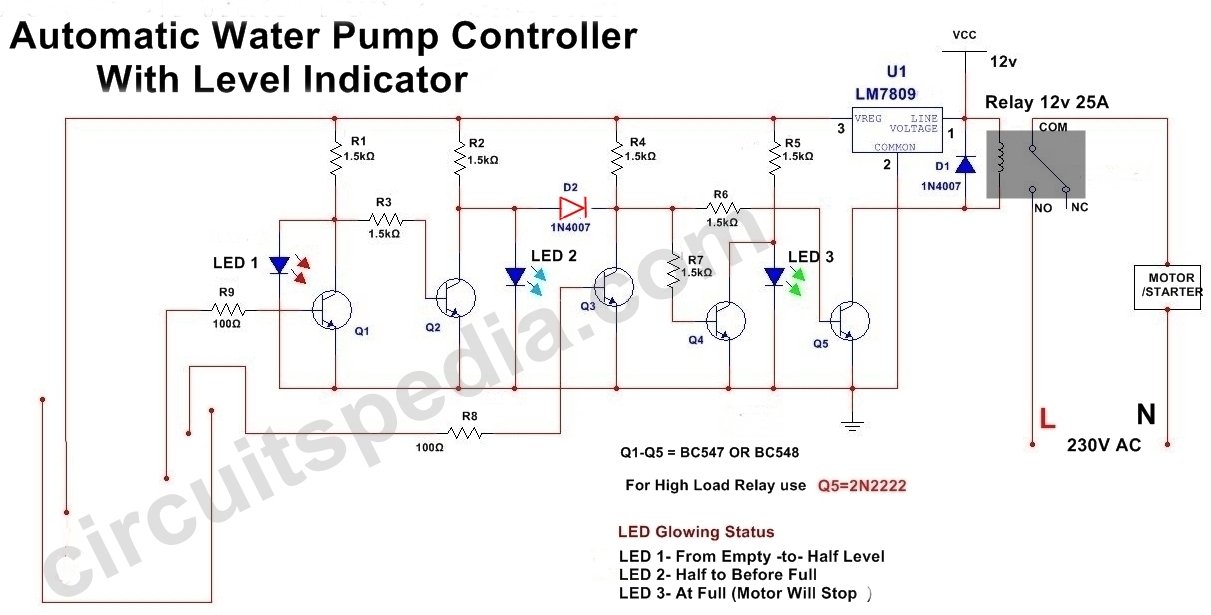 Construction
In This Project No Need Of Any Capacitor, No Timer IC.  A Voltage Regulator IC LM7809, Some Resistors And Some NPN Transistors, Diode, LED, And a Relay are used In This Circuit.
Connect All Components As Shown In the Image Diagram, The Value Of Resistors Are Should Not More Than 2kΩ.  And Not Less Than 1kΩ. R8 And R9 Should Not be More Than 100 Ω. If All Values Are the Same As I Recommend Then Circuit Working Will 100% Successful.
Arrange The One Wire Which Is Connected to VCC from More Than Half Level (Not Necessary To Fix The VCC wire From the Bottom). Second Wire Connect The Half Middle Of the Tank Or the Lower Than Half. And Third Wire Is Fix to Top Side Where You Want as a Requirement.
Working
First stage
At First When There Is No Water In-Tank. This Is time to start the motor LED 1 is Glowing And the Relay Is Activated. So the Power to the motor is ON. Only LED 1 will Glow At until the water Level is About To Reach the Half Of the Tank. When the level of water has reached half level and Touches the middle wire of the tank then the current from VCC supply through the water goes to the BASE terminal of transistor Q1 and this will Turn ON.
Transistor Q1 is connected as NOT Logic Circuit, So When the input of this on the base is +ve (ON) then the output at COLLECTOR Terminal Will be LOW (OFF), In this Case only LED 2 is now glowing And LED 1 is getting OFF.
The transistor Q5 remains ON State Which Stay Relay Activated and the motor get power.
Second and Third Stages
Now water is reached More than half and the middle and wire is sunk in the water, Only LED 2 Is glowing and all are OFF
At The Time Of When Water Reached To The Upper Wire And Touched That. As The Water Is Touched The Upper-Level Wire And Current At the Base Of Q3 is Getting Supply.  transistor Q3 in ON and LED 3 will Glow And On That Exact Time Transistor Q5 Will Get Turned OFF Because Transistor Q3 And Q5 Are in Connected As Inverter Logic(Not GATE) Which Make The Output At Collector of Q3 is LOW, the Base Of Q5 In LOW input and Q5 Turned Off. This is The Reason For Relay Deactivate When Tank Is Full. All Emitter Terminal Of Transistors Is Grounded(-ve supply). 
The Purpose of Voltage Regulator LM7809 is in this Circuit is to Divide The Supply In Two Sections. One Is For the Relay And the Other is For the whole Circuit. If the LM7809 regulator Is not connected then The Maximum Power is get consumed by the Relay And the LED does not flow In a Proper way.
Carefully Connects Terminals Of Transistors And Voltage Regulator ic LM7809. The relay Must Be More Than 20A. 
If Q5 BC547 Get burned or hotter, then You Can Use 2N2222. 
You Can Use Tricolor LED in Place of 3 Different LEDs. But only Common Cathode Tricolor LED. This LED Makes its Different Look.
2nd Schematic diagram
(suitable for both Motor- Submersible and Non-submersible)
---
3rd Schematic diagram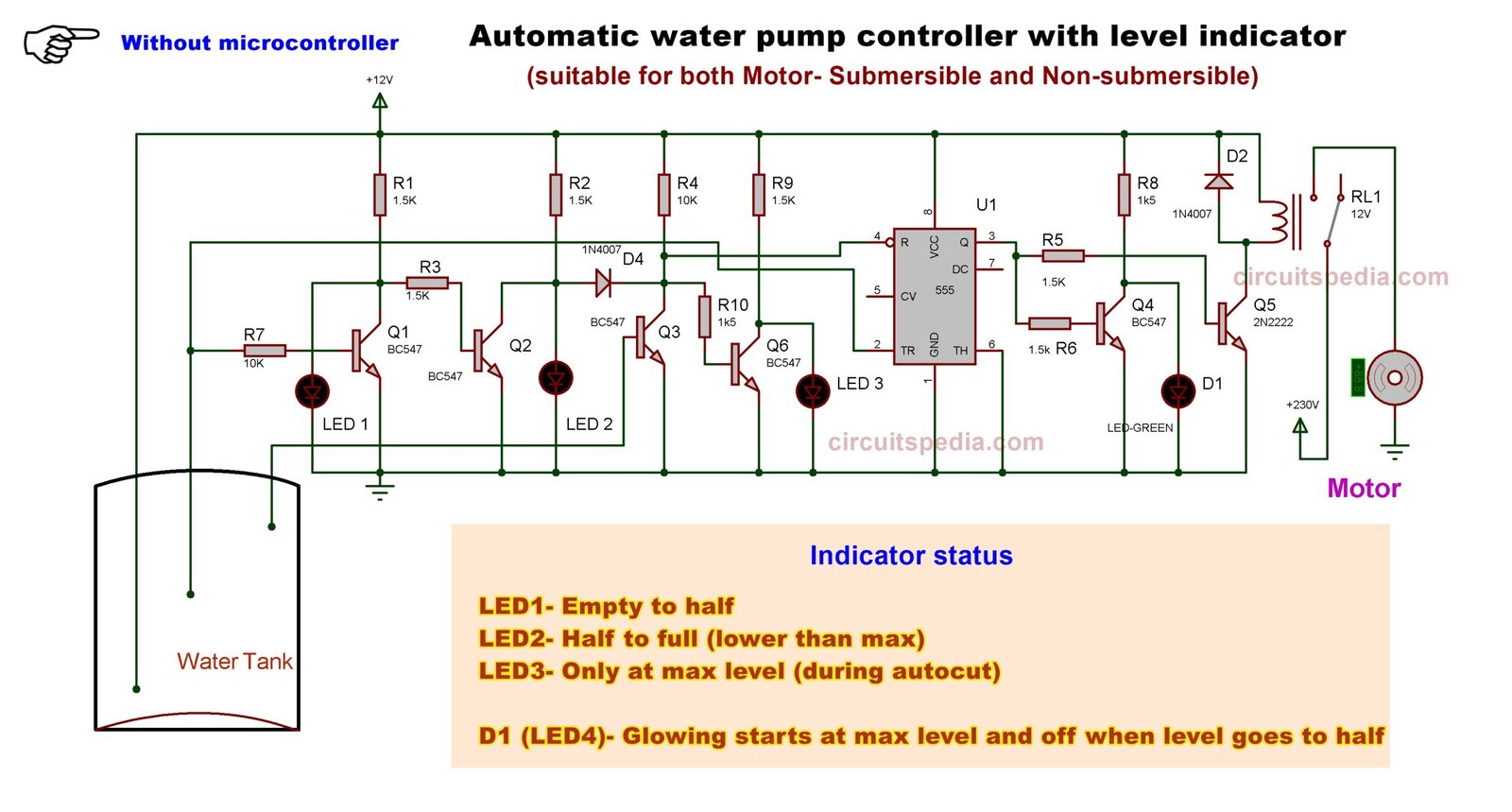 Part list of 3rd schematic
Resistors
10K-2,  1.5K-8
Diode – 2
555Timer ic -1
Transistor BC547-5, 2N2222-1
Relay- 12v 20A
Must Watch Demo Video.
Video is of 1st circuit
Simulation video of 3rd circuit
Must Read 2 Digit Digital Object Counter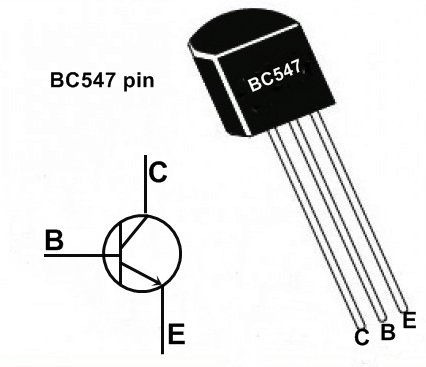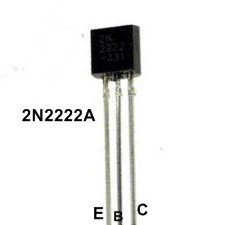 Must Read Simple ON OFF Touch Switch For Light/Fan
The power supply must 12 v DC.  If the Power Supply Is LESS than 12v on pin 1 of 7809 then the circuit may not correctly work.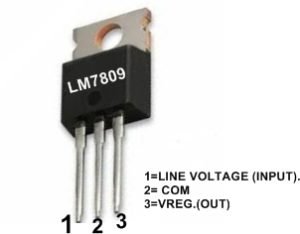 Components
Resistor 
 1.5K- 9
 100 ohm-2 (optional)
Transistor
 BC547 -5
 Diode
 1N4007-2
 LED-3  Or Tricolor LED-1
 Relay
 12v 20A-1
 Voltage Regulator IC
 LM7809-1
---
PCB layout of 1st circuit
download Actul size printable image of PCB Layout
---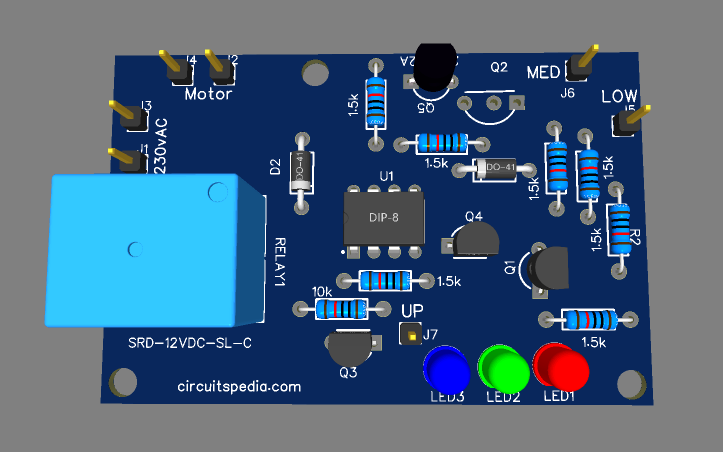 Also Read